Block Wireless LAN Policy
Surveilstar enables employers to block particular employee's access to wireless local area network, preventing the abuse of this network resources which are taken advantages of employees to do non-work related things. It also makes it possible to alert the employee when he/she is trying to connect network.
Manage Users' Accesses To Wireless Network
Features
Resources
Topics
A wireless local area network, generally known as the WLAN, is a network without using physical adapters to connect the two or more devices but some wireless distribution methods to realize the connection. In this way, a laptop or a mobile phone can surf the Internet with no extra devices taken.
Apparently, the wireless network is much harder to predict and control for a company supervisor compared with the old mode network. And it is also difficult for them to know what the employees are doing with the WLAN during office hours. Because few monitoring tools can be deployed on it, not to mention to block wireless network or some specific on-line activities using it. This has become a tough problem to many.
Lucky for Surveilstar users, Surveilstar has added a new "Wireless Network Adapter" policy on "Device Policy" catalog since version 3.24.1002.20 on 12th, November, 2012. With this option, you will be able to stop users from connecting the wireless network and the user will at the same time get an alert if he/she is trying to build connection between his/her computer/laptop (using Windows operating systems) with the wireless LAN.
How To Set A Wireless LAN Adapter Policy
Step 1. In SurveilStar Console, click menu "Policies" > "Device", click Add button to create a device policy. Then you will see Property settings like the picture below.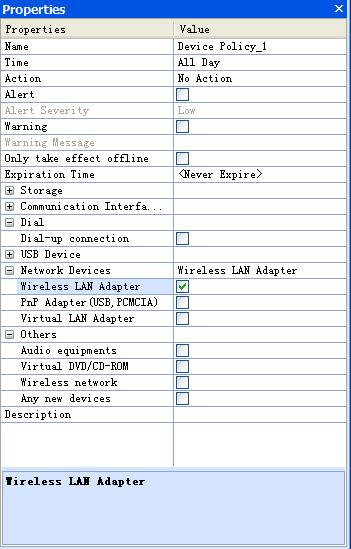 Step 2. Select "Network Device">"Wireless LAN Adapter". More details about this can be found here.
Here are something you may need to fill in while creating a policy.
Name: Give your device policy a name.
Time: Set effective time for your device policy.
Mode: Select policy execution mode. Allow, Block and Inaction modes are available.
Only offline: Check this option if you want the policy to be effective only when the computers are offline.
Expiring Time: Set expiring time for this device policy. Or leave it to Always to make it always effective.
Device Policy: Click ... button to open the settings dialog. You will see a dialog as below.
Description: Describe your device usage policy.