SurveilStar -- PC Surveillance Software
SurveilStar PC surveillance software allows you to monitor all areas of your PC, tracking every action down the last keystroke pressed or the last file deleted! With this powerful surveillance software, you will have a complete record of your employees' PC and Internet activity.
Features
Resources
Topics
PC surveillance software is an IT system deployed in a network to monitor and control end users' computer and Internet activities. Such surveillance system is typically consisted of agent applications, installed in computers needed to be monitored and controlled, and control applications, used by IT managers or supervisors. Comprehensive systems may require a data base and a server.
1. Computer/Internet/Email monitoring takes many forms

2. Employers are most likely to block employees' access to the following web sites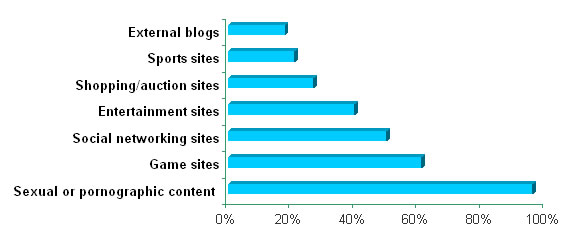 Why is PC surveillance necessary
Before judging whether it's necessary to use such kind of employee monitoring software to monitor and control their computer and Internet activities, take a look at these facts:
30% of the companies are losing more than a day's work per week to time wasting
44% of businesses have suffered an e-mail breach
£33,000 is the average cost of clearing up after an e-mail breach
30% of people had stolen a contact database when they left an employer
70% of people have stolen key information from work
21% of data theft burn corporate documents and information onto CDs
The list goes on …
In a computer-and-Internet-dominated workplace, only the Big Brother camera is not enough to secure your business.
When they seem to be working in front of computers, some slackers might be abusing computer and Internet in many ways: playing online games, sneaking a look at naked people on the Internet, circulating jokes or snide remarks about colleagues via emails, seeking jobs, shopping on eBay or Amazon.com, chatting with buddies via Instant Messengers... All these take place during the nine-to-five working day.
Why choose SurveilStar PC surveillance software
From the day we program this software, we have great anticipation on it, just as you do now. So we name it SurveilStar, hoping it can really help you out and become one of the shinning stars among the surveillance software industry.
Monitor and control every PC/Internet activity
SurveilStar records and controls all computer and Internet activities - emails, web site visits, chats and instant messages, system settings, program activities, document operations, removable devices, printers, and even network management.
Real-time monitoring and control
You can watch real-time screen snapshots of any selected computer or several computers at a time. SurveilStar keeps you informed.
SurveilStar puts you in control
We understand efficient and in-time control is the most critical part. SurveilStar provides dynamic monitor and control options that can efficiently manage the whole network and all computers.
A happy solution for both employees and boss
The use of SurveilStar will not bother employers at all. SurveilStar runs silently in backstage, no visible interface or entry in the end user computer. And SurveilStar will not cause inconveniences to normal use of computer and Internet. Thus it's a happy solution for both employees and employers. Download and review SurveilStar on software download web sites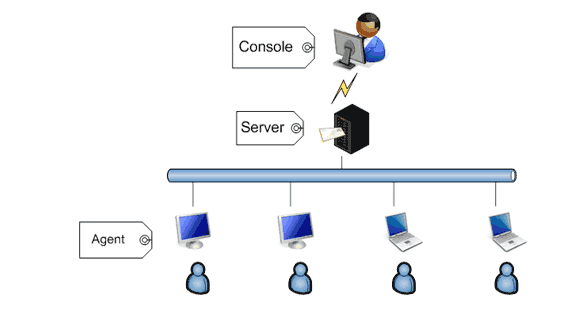 --- ----------------------------------------------------------------------------------------------------

Internet Resources of PC Surveillance
The PC surveillance software is the award-winning, powerful spy software and computer monitoring product for monitoring spouses, children, co-workers, or just about anyone else!
The PC surveillance software comes equipped with the functionality to record all AOL/ICQ/MSN/AIM/Yahoo chat conversations, all websites visited, all windows opened and interacted with, every application executed, every document printed, every file or folder renamed and/or modified, all text and images sent to the clipboard, every keystroke pressed, every password typed, and more!
With The PC surveillance software's advanced features and stealth monitoring capabilities, you can rest assured knowing that you when record your PC, it will be done in total secrecy without the worry of whether or not others will find it. Read on to find out why customers across the globe are choosing the most trusted name in the computer monitoring industry as their choice of software to monitor their PC.
Features of The PC surveillance software
Internet Conversation Logging. Log both sides of all chat and instant message conversations for AOL/ICQ/MSN/AIM/Yahoo Instant Messengers.
Disk Activity Logging. Record all changes made to your hard drive and external media.
Capture information on every window that were viewed and interacted with.
Track every application/executable that was executed and interacted with.
Capture every text and image item that was copied to the clipboard.
View All AOL and Internet Explorer websites visited before the PC surveillance software was installed, and when the PC surveillance software was not recording!
Log specific information on all documents that were sent to the printer spool.
Track all keystrokes pressed [including hidden system keys!] and which windows they were pressed in. Keystrokes can also be passed through a formatter for easy viewing/exporting.
Log all website title and addresses that were visited on the PC. Supported browsers include Internet Explorer, Netscape, and Opera!
Automatically capture screen shots of the desktop (or the active window) at set intervals - perfect for visually seeing what was happening on your PC when you weren't around!
PC surveillance program
The PC surveillance program is the software that parents use to keep track of what has been done on the PC. This surveillance software is completely hidden so you do not need to worry about unauthorized access. Recording features include:
Email Surveillance
MySpace Monitoring
Chat Recording
Web Site Logging
Online Search Tracking
Keylogging
Program Monitoring
Keyword Alerts
That's not all this Award Winning Surveillance software can do. You will also be able to block sites, chats, and Internet access! Also this PC surveillance software will give you detailed summaries of activity in the "top 10" section of this surveillance software. Combine that with outstanding technical support 24 hours a day, 7 days a week and you have the most powerful home use surveillance software that will show you everything they do online.
Setting up a PC video surveillance system
Times have changed. The crime graph is on the rise with a sharp increase being reported in the number of thefts, burglaries and break-ins. You can remain a sitting duck, or choose to fight back. Using a surveillance system to monitor things while you are away is a possible solution. While not everyone can invest in closed circuit cameras, a PC based video surveillance system is an effective tool that anyone with a computer and web camera can install. You can build your own peace of mind, instead of trying to buy it.
A PC based video surveillance system is also ideal for monitoring your pets at home; or the front door, garage and bedroom while you are away at work or on a vacation. All you need is your PC, a webcam or IP camera, and advanced surveillance software. With this combination, you can keep an eye on things, all the time and effortlessly.