SurveilStar can capture screen snapshots of the monitored computers. Administrator/supervisor can watch the video-like screen snapshots in real-time, see computer screen as the monitored user sees it. Up to 16 computer screens can be watched at the same time, and you can quickly switch between all monitored screens.
Do you want to know whether all your employees are doing work related things with their computers? Are you looking to find a way to estimate your employees' performance? Have you ever experienced confidential information leakage but could not put your finger on the culprit?
SurveilStar gives you the absolute flexibility to decide whose computer screen to be recorded, which applications to be recorded, and how frequent to record. SurveilStar takes snapshots of whatever is on the computer screen. These snapshots can be taken as frequently as once a second, or they may be taken based on specified frequency.
Real-time Screen Monitoring
Whenever you want to check what your employees are doing, you can use real-time screen monitoring. You can easily see the world through your employees' eyes.
Remotely watch your employee computers like a television
See who your employees are talking to and what they are typing
View screenshots of all running applications and computer activities
Watch Multiple Screens Simultaneous
SurveilStar allows you to watch multiple screens simultaneous, 2*2, 3*3 and 4*4 are supported. You can monitor up to 16 screens at the same time. Simply log in SurveilStar Console, click menu Monitoring > Multi-Screen.
Monitor 1×1, 2×2, 3×3 or 4×4 screens at the same time
Visually monitor 16 users' PC activities as you like simultaneously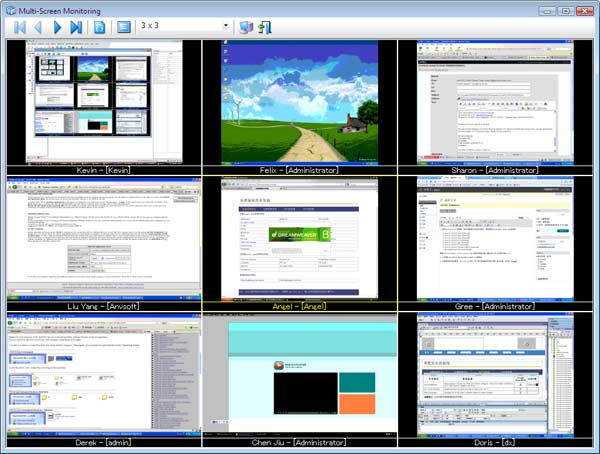 Flexible Screen Snapshot Policy
By default, SurveilStar doesn't take screen snapshots due to the large storage requirement. However, you can create a Screen Monitoring policy to record screen snapshots and you can replay it like a video later. Default interval is 15 seconds, and it's up to you to set more or less frequently.
Establish different screen snapshot policies for different computers
Select or customize timetables for taking screen snapshots
Set the expiring time of the recorded screenshots which extends from 5 to 180 days
Specify what application/application classes screen snapshots will be recorded
Set varying snapshot intervals or use the default interval time (15 seconds)
Export as Picture or Video
Save the real-time screenshot as individual *.jpg or *.bmp picture
Export the recorded snapshots as *.wmv video file
Search Snapshot History
Search snapshot history by date (begin/end), Name or IP address
Review screen history by application name, computer user, screen, and timeline