SurveilStar provides an easy and reliable way to monitor and control devices over a network. Whenever USB mass storage media is inserted or released from any agent's machine it alerts the administrator by sending a message notification to prevent data loss.
SurveilStar helps you effectively control the access permissions of various kinds of devices, including storage device, communication device, USB device, Bluetooth device, dial-up device, burning device, network device. It effectively and efficiently prevents sensitive data from leaking out via these devices.
Monitor & control the use of devices
Processor, DVD drive, CD drive, keyboard, mouse, network adapters, printers … SurveilStar can record computer hardware and software assets information in details, of every single monitored computer.






IT manager can control the use of these assets. If someone tries to add, delete or change these monitored assets, alert message can be sent to administrator, and control policies, such as Disable Device or Lock Computer, can be automatically triggered and applied to stop potential sabotage.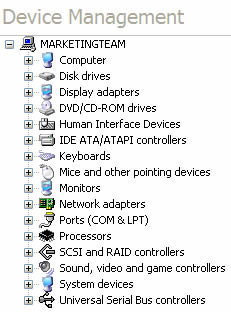 Record Software and Hardware Changes
SurveilStar records all software changes and hardware changes and record Add, Delete or Change operation types.
Restrict the Device Usage
Many employees may use a removable device to copy documents in company, this may lead to a critical data leakage. You can create a device policy to decide what devices can be used.
Control Various Devices
To protect corporate information from leakage and data theft, the use of devices should be tracked and controlled carefully. SurveilStar tracks, records and controls all device connections and operations.
You can control storage devices like Floppy, DVD/CD-ROM, burning device, tape, removable device, etc., control communication interface devices like bluetooth, modem, USB controller, 1394 controller, etc, control USB devices like USB keyboard, USB mouse, USB storage, USB harddrive, USB DVD-ROM, etc., control dial-up devices, network devices and other devices.
SurveilStar supports:
Storage devices
Communication devices
USB devices
Dial
Network devices
And other devices
Type
Device
Storage devices
Floppy Drive, Tape drive
DVD/CD-ROM drive
Burning devices
USB Flash drive, removable drive, memory stick, smart card, MO and ZIP drive
Communication devices
COM, LTP, USB, SCSI, 1394, Infrared, PCMCIA, Bluetooth, MODEM
Direct Lines (between two computers using USB cable , COM port or Serial cables)
Network devices
Wireless LAN Adapter
PnP Adapter (USB, PCMCIA)
Virtual LAN Adapter
Dial-up Connection
USB devices
USB Keyboard, USB Mouse
USB Modem, USB LAN Adapter
USB CD-ROM, USB Storage, USB Hard disk
USB Image Device (Webcam, Digital Camera and Scanner)
Others
Audio device, video device, and game device
Virtual CD-ROM
Any new devices plug-in
Removable storage devices
SurveilStar can track the usage of removable storage devices in all monitored computers. Whenever a removable storage plugs-in or plugs-off, SurveilStar records the type of the device, time, computer name and user name, volume ID, description and volume label.
SurveilStar can prevent information leakage and authorized transfer by controlling the use of removable storage devices. Administrator can determine whether or not a removable device is allowed to be used on monitored computer, with Read ability or Write ability.
And the files wrote to removable device can be encrypted so that only authorized computer agents can decrypt and read the files.
| | |
| --- | --- |
| Ability | Description |
| Read | Free to read any files from removable specified storage device |
| Decrypt when reading | Files are only decrypted using Explorer.exe to copy files from removable storage to local or network disks. This option is enabled when Read is checked. |
| Write | Free to write any files to removable specified storage device |
| Encrypt when writing | Prohibit any application program to copy any files to removable storages except using Explorer.exe This option is only enabled when Write is checked |
Document Control Policy vs Removable Storage Policy
The priority of Document Control Policy is higher than Removable Storage Policy.
For instance, if a removable storage policy allows writing documents to removable storage, at the meantime, a document control policy prohibits copying documents to removable device, the documents will not be transferred to the removable device.