Employer's Concerns: Internet/Email Abuse and Employee Monitoring
While computer network an Internet bring up high efficiency in information processing and co-working, this progress may also setback productivity and even harm business in some circumstances. Just think of the fact that 24% of employers have had e-mail subpoenaed by courts and regulators, and 15% have battled workplace lawsuits triggered by employee e-mail.
Features
Resources
Topics
Employers always claim that the monitoring software is used to protect business and enforce computer policies at workplaces. But what are they really worrying about in their mind?
Data theft and information leakage
Sabotage of computer system and electronic documents
Time-wasting on surfing web sites for personal interests
Decrease of workplace productivity
Lawsuits triggered by employee emails and Internet abuse
Internet/Email abuses that can not be tolerated
If an employee's misuse of email or Internet is found too far unacceptable, the possibility is that he or she will get fired.
According to a survey conducted by American Management Association and ePolicy Institute titled "2007 Electronic Monitoring & Surveillance Survey: Over Half of All Employers Combined Fire Workers for E-Mail & Internet Abuse":
1. Employers could fire workers for e-mail misuse for the following reasons:

2. Employers could fire workers for Internet misuse for the following reasons

What do employers do to deal with the situation
Employers increasingly combine technology with policy to manage productivity and minimize litigation, security, and other risks.
E-mail monitoring and filtering
Website monitoring and blocking
Phone tapping
GPS tracking
Video camera recording
…
1. Computer/Internet/Email monitoring takes many forms

2. Employers are most likely to block employees' access to the following web sites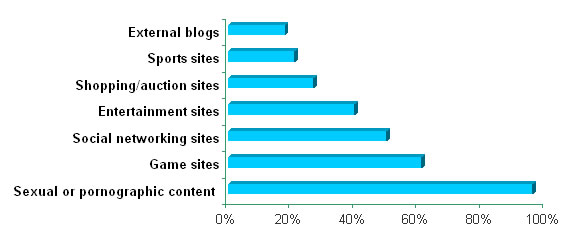 Find out how SurveilStar secures your business and improves productivity