SurveilStar Pro - Intuitive Parental Control Software
SurveilStar Pro is the perfect parental control software choice for parents looking for software to monitor their child's computer and online activity and for those that do not have regular access to the computer you need to monitor!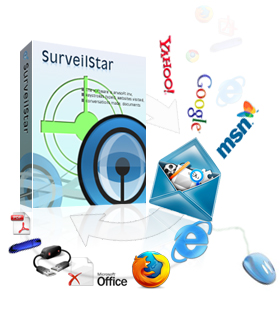 Screen Snapshot
Chat/IM Activity
Online Searches
Email Activity
Web Sites Visited
Program Activity
Block access to any website

Monitor up to 5 computers in 30 days with full functions!
Monitor Your Kids from Any Web Browser!
As the only truly web-based computer activity / Internet monitor, SurveilStar Pro allows you monitor your kids online through any popular web browser. With a complete suite of powerful features included, SurveilStar Pro has the rare ability of both effective monitoring and web site blocking. The software installs easily and has an intuitive interface that even computer novices should find easy to use.

Support IE, Firefox, Chrome, Safari, Opera and many more browsers.
How SurveilStar Pro Works for You?
SurveilStar Pro is designed for parents to monitor kids' online activity. With this software, parents can grab screenshots, record sent and received mails, record chatting messages, monitor and record visited websites. So parents shield your children from cyber bullies, predators and adult oriented websites, and ensure you have the control you need over children online activity.
SurveilStar Pro is comprised of Server, Control Center and Agent. Agent is installed on the computers you need to monitor, and server will invisibly collect all the data from the agent computers, then parents can use Control Center to review the data and control the computers with flexible controlling policies.

Features of SurveilStar Pro
Take Screen Snapshot
With SurveilStar Pro, you can capture screen snapshots of your kid's computers. Parents can watch the video-like screen snapshots in real-time, see computer screen as the monitored user sees it.
Without being monitored, it is often the case that kids get carried away with excessive video game, social net working sites, chatting rooms and adult oriented websites. Parents can search snapshot history by date (begin/end), Name or IP address. So with screenshot history, parents can easily know what their children were doing on Internet. So they can protect children from cyber dangers. With this Screen Snapshots feature, parents can preview the screenshot in full screen or save image in PNG format. Besides, parents can also set varying snapshot intervals or use the default interval time (10 seconds)!
Record Email Activity
SurveilStar Pro records and stores all the information you'll need - whether an email was sent or received, who sent it, who received it, the date and time an email was sent or received, the subject, the contents and any attachments. Thus, you can know exactly your kids online activity. You can also quick view the email by selecting the date, giving you the flexibility to monitor and record every email. With SurveilStar Pro, you can monitor the following email: Hotmail, Yahoo!, Webmail, MySpace, AOL Webmail, and even more!
Monitor Chat/IM Activity
With the Chat/Instant Message recorder built into SurveilStar Pro, chat conversations and instant messages are automatically recorded and saved for your later review. SurveilStar Pro is also compatible with all major instant messaging software. It is not only able to log outgoing messages by a local user, but also incoming messages too. SurveilStar Pro records both sides of a conversation allowing you to see what your employees are saying as well as how other chat participants respond. So as an enterprise's supervisor, you can access and control the time spent on chatting by your employees.
Block Web Site Visits
SurveilStar Pro is designed to be parent-centric. Parents can monitor your kids' website surfing for protecting from adult oriented websites and any other harmful websites.
With SurveilStar Pro, parents can filter and block the inappropriate website to ensure a clear internet environment for kids. Besides, it also can record all the visited websites, URLs, captions, users, and computers to estimate users' browsing activity. It also can provide easy-to-use web browsing log enquiry.
Top 10 Summary Reports
Just select the Statistic Chart Tool on the main interface, the statistic pie chat will turn up which indicates exactly the kids' online behavior.
Conveniently back up and review the recorded data. Get detailed reports on web pages visited, time and length of visit. Statistics Chart feature aims to calculate and analyze users online activities, providing a powerful statistical function and reliable basis for the parents to assess their children's online behavior. With the data provided by statistic chart of SurveilStar Pro, you would know well of your kid's online behavior and take appropriate measures to help them use Internet properly.
Additional Features
Invisible Mode: It runs silently and unobtrusively while logging everything that happens on your kid's computer. The product captures all keystrokes, makes periodic screen captures of the desktops, logs programs that are opened or closed, and records all web sites visited.
Password Protection: As an added measure of security, SurveilStar Pro will prompt you for a password before opening the PC recording files. This ensures that anyone attempting to access the recordings is an authorized user.
Search Function: Conveniently search your desired record to review. You can use Email From, Email To, email subject, Email received before or after certain time, whether attachments included or not, email size, etc. to filter search conditions.