SurveilStar - The Best Employee Monitoring Software for Windows 7
Corporate espionage has caused the demise of many a thriving business. SurveilStar Employee Monitoring Software can thwart intellectual property theft and protect a company's digital assets. This powerful employee monitoring software makes it possible for an employer to monitor all of their staff's Windows XP, Vista and 7 computers and online activities.
Features
Resources
Topics
Advantages of Using Employee Monitoring Software
Today, with Employee Monitoring Software, managers can remotely monitor employees in real time as they perform job-related tasks. The PC Monitoring also makes it possible to catch and document those workers who abuse company resources by leaking confidential company information via email or using instant messaging applications to threaten and harass others.
Designed to keep management informed, employee surveillance applications can also increase worker productivity while decreasing incidences of inappropriate employee behaviours. Clearly, surveillance apps and their logging and documentation capabilities can serve as a vital forensics tool when allegations of employee sexual harassment, coworker hostilities and other problems surface.
To monitor employees' computer and internet activities effectively, you can get SurveilStar Employee Monitoring Software to do everything for you. The following table is a list of the system requirements of SurveilStar Employee Monitoring Software.
System Requirements
| | | | |
| --- | --- | --- | --- |
| | OS | Basic | Recommended |
| Database | - | MSDE SP4 / SQL Server 2005 Express | SQL Server 2000 SP4 or above / SQL Server 2005 SP1 or above |
| Server | Win2000 SP4/XP SP2/2003 SP1/Vista/7/2008 | Pentium III 500/256MB 10GB Hard disk space | Pentium 4 2G/512MB 50GB Hard disk space |
| Console | Win2000 SP4/XP/2003/Vista/7/2008 | Pentium 166/64MB 10MB Hard disk space | Pentium III 1G/256MB 100MB Hard disk space |
| Agent | Win Me/NT4/2000/XP/2003/Vista/7/2008 | Pentium 166/64MB 10MB Hard disk space | Pentium III 500/128MB Hard disk space |
Monitor Employee PC & Internet Activities on Windows 7
Employee Monitoring
Employee monitoring is essential in the age of high speed internet. Too often employees spend their working hours visiting shopping and sporting sites, playing games, sending and receiving personal emails and messages over ICQ, viewing pornography. As a result, companies lose money and reduce productivity.
To protect companies and resources, you can use SurveilStar Employee Monitoring Software, which has been specially designed for employee monitoring. It'll tell you who spend the most time browsing non-work related sites, what sites are visited, and when it occurs up to a second.
Computer Monitoring
Computer monitoring tools will tell you everything your employees are doing online during the working hours. It'll provide answers to the security questions facing each and every employer, manager in the professional sector today.
SurveilStar Employee Monitoring Software is robust and powerful computer monitoring software for the most demanding businesses. It'll show the bottom-up pattern of the usage of the working hours on all control levels: division, section, and department. SurveilStar Employee Monitoring Software is ideal for computer monitoring and gives the power to uncover the truth.
Internet Monitoring
Internet monitoring helps employers get visual verification of employee Internet activity. According to the latest surveys, the average worker spends over an hour a day visiting shopping sites, sending and receiving personal email, viewing porn and doing other non-work related activities. As a result, companies are losing thousands of dollars.
Internet monitoring with SurveilStar Employee Monitoring Software is ideal for safeguarding your business. It can tell you which employee spends the most time browsing the sites, what sites they visit, and when they do it. You can get this information at any moment in real time. It's also possible to limit access to the internet by setting up a list of websites and time slots within which these sites can be visited.
How SurveilStar Works on Windows 7
Install the Server on administrator's or parents' computer in a LAN. Install the Agent onto the computers you want to monitor and/or control. Review all recorded activities to know every detail they have done. Control their behavior and access by assigning different types of policies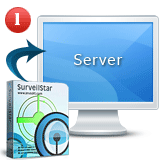 Install SurveilStar Server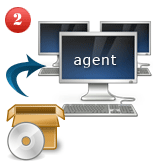 Install SurveilStar Agent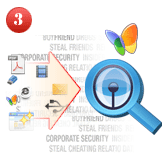 Review Data by Console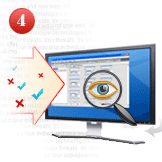 Create Policy to Control
SurveilStar Employee Monitoring Software Features
SurveilStar is an outstanding employee monitoring software which records every detail of computer and Internet activities including program activities, document operations, emails, chats and instant messages, web sites, and many more.
Take real-time screen snapshots, monitor multi-computer screens, and review screen history
Record both sent and received emails and webmails from Yahoo, Hotmail, Outlook / Outlook Express, etc.
Both sides of chat in instant messages from AOL Chat, AIM, Yahoo Messenger, Facebook & Myspace Chat, etc.
Record all websites visited and let you know what web sites they go to and how long they were visiting it for.
Record website usages and let you know who used it, what they were doing on it, and how long they used the app.
Record document actions, control access to sensitive documents, backup confidential documents before delete.
Record detailed printing activities, set permissions of using printers, backup the images of printed files.
Prevent illegal file sharing over network, allocate different bandwidth to different computers.
Backup data to server for further review, manage console accounts, user and computer group in the network.
Download SurveilStar Employee Monitoring for Windows 7
The SurveilStar offers a 30-day free trial for up to 5 computers. Please click the button to free download SurveilStar Employee Monitoring Software to have a try. If you need to upgrade SurveilStar, please click the button below to purchase the license. One license for one computer. If you need to monitor 100 computers, you shall purchase a quantity of 100 licenses.