SurveilStar - The Best Parental Control Software for Windows 7
Surveilstar is a perfect parental control software. It helps parents control how much time their kids spend in front of the computer and protect them from online dangers. This powerful parental control software makes it possible to monitor all of online activities on Windows XP, Vista and 7 computers.
Features
Resources
Topics
Benefits of Using Parental Controls Software for Windows 7
As a concerned parent, you can expect to gain many benefits from using parental control software in your home.
Some of the benefits are as follows:
Worry less while your kids are online or using the computer when you are away or not watching them.
Protect your personal information from purposely or inadvertently being compromised.
Know how your kids have been using the computer and restrict or allow its use accordingly.
Protect your children from being connected to online predators and dangerous people.
Enable your child to get the most out of their computer time.
It gives you the ability to prevent your kids from visiting harmful web sites and chat rooms, using dangerous programs, while still allowing your kids to enjoy the educational and entertaining resources that are available on the web and accessible through the computer.
System Requirements
| | | | |
| --- | --- | --- | --- |
| | OS | Basic | Recommended |
| Database | - | MSDE SP4 / SQL Server 2005 Express | SQL Server 2000 SP4 or above / SQL Server 2005 SP1 or above |
| Server | Win2000 SP4/XP SP2/2003 SP1/Vista/7/2008 | Pentium III 500/256MB 10GB Hard disk space | Pentium 4 2G/512MB 50GB Hard disk space |
| Console | Win2000 SP4/XP/2003/Vista/7/2008 | Pentium 166/64MB 10MB Hard disk space | Pentium III 1G/256MB 100MB Hard disk space |
| Agent | Win Me/NT4/2000/XP/2003/Vista/7/2008 | Pentium 166/64MB 10MB Hard disk space | Pentium III 500/128MB Hard disk space |
Some Information about Parental Control Software
If your young child is using the computer for large periods of time doing activities that are of little benefit to his or her education, this is in effect a waste of precious childhood. The computer can be extraordinarily seductive to a child.
According to the results of the Pew Internet and American Life Project nonprofit organization's latest survey, an increasing number of parents are using parental control programs that block access to Web sites of questionable content.
54% of American families have parental control software installed on their home computers the survey said. By Pew's reckoning, that translates into roughly 12 million households.
By contrast, only 41%, or 7 million internet connected homes, actually use parental control software. That means there was an increase of 65% in the last 4 years in the amount of families using parental control software
How SurveilStar Works on Windows 7
Install the Server on administrator's or parents' computer in a LAN. Install the Agent onto the computers you want to monitor and/or control. Review all recorded activities to know every detail they have done. Control their behavior and access by assigning different types of policies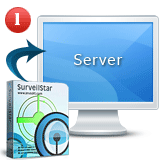 Install SurveilStar Server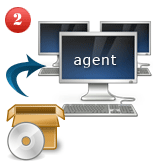 Install SurveilStar Agent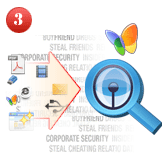 Review Data by Console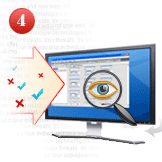 Create Policy to Control
SurveilStar Parental Control Softare for Windows 7 Features
SurveilStar is an outstanding parental control software for Windows 7 which records every detail of computer and Internet activities including program activities, document operations, emails, chats and instant messages, web sites, and so forth.
Take real-time screen snapshots, monitor multi-computer screens, and review screen history
Record both sent and received emails and webmails from Yahoo, Hotmail, Outlook / Outlook Express, etc.
Both sides of chat in instant messages from AOL Chat, AIM, Yahoo Messenger, Facebook & Myspace Chat, etc.
Record all websites visited and let you know what web sites they go to and how long they were visiting it for.
Record website usages and let you know who used it, what they were doing on it, and how long they used the app.
Record document actions, control access to sensitive documents, backup confidential documents before delete.
Record detailed printing activities, set permissions of using printers, backup the images of printed files.
Prevent illegal file sharing over network, allocate different bandwidth to different computers.
Backup data to server for further review, manage console accounts, user and computer group in the network.
Download SurveilStar Parental Control Softare for Windows 7
The SurveilStar offers a 30-day free trial for up to 5 computers. Please click the button to free download SurveilStar parental control software for Windows 7 to have a try. If you need to upgrade SurveilStar, please click the button below to purchase the license. One license for one computer. If you need to monitor 100 computers, you shall purchase a quantity of 100 licenses.