Many employees play online casual games during working time, or download and install some software they are not familiar with. Sometimes they may install malicious software and bring damage to their computers or even to the entire network. Some employees may also use instant messenger applications to chat and talk about personal affairs that are irrelevant to work. Some employees use peer-to-peer download manager which may take up all the internet bandwidth and interfere with others' working. In many companies, most employees use some fixed applications and many other applications are really meaningless and irrelevant to their work. No matter which point of view you look from, software usage management is important and essential. SurveilStar Employee Monitoring software comes with powerful application usage management and control functions and it's the right choice for IT managers and supervisors.
After deploying SurveilStar Agent on users' computers, IT manager can create an application policy and flexibly manage and control employees' application usage. Before creating application policy, we recommend you sort used applications into classes by menu 【Categories > Applications】.
Click

button to specify application. There are 3 methods.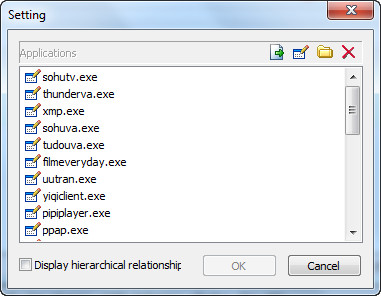 There are four buttons in the dialog which are Import, Add, Application Classes List and Delete. It's just the same as the setting dialog that was previously discussed in Application Logs chapter.
1. Direct Input Application Name
In the Application Setting windows, click the button

to input the application name directly e.g. thunderva.exe. If the user changes the application name to thunder123.exe, it makes the policy not effective anymore because the input only matched with strings. To avoid this problem, check the following method 2.
2. Select from Application Categories
In the Application Setting windows, click the button

and the Application Categories Selection windows popup. Check the application classes you want to control. If the action is <block>, the policyis still effective even user changes the application name later.
(How to customize the Application categories please simply click here.)
3. Control applications by running path
Click button

and add the application path, such as: Block [APPDIR:D:\*.exe], then SurveilStar will block all apps under Drive D:\. And [$UDISK$] stands for U disk, [$CDROM$] stands for CDROM. Such as:
APPDIR:$UDISK$:\*.exe: Control applications on U disk.
APPDIR:$CDROM$:\*.exe: Control applications on CDROM.
Service Control
SurveilStar can also control service running on agent PCs. Simply click button

and input the service name. Input format
service: ServerName;
For example: To disable the service bthserv, then fill in service: bthserv.
Please note that:
1. If the application is sorted into an application category, even if the user change application process name, the policy will still be effective.
2. If you set <Block> to <All> applications, the majority of the process would be disabled. Please proceed with caution when setting policies.