Application Categories Management
Printing policy can effectively play a key part in helping not only reduce consumable waste such as paper, ink and toner cartridges but also limit staff to print specified files by setting printer type and running specified application to print documents. It does achieve to protect confidential documents and reduce enterprise resource consumption due.
Printing Policy
By default, all applications will be divided into two categories: unclassified and systems, which are all can't be deleted or renamed, and sub group can't be created. According to different requirements, IT manager or supervisor can easily sort applications into different classes for convenient management.
Systems: Applications associated with the operating system. In order to avoid serious problems, system related applications are alone in one group to separate from others and IT manager can move them to other categories.
Unclassified: All applications that are not match to any classification. IT manager can move them to other categories.
Click menu Categories > Application, then you will see a window as the picture below.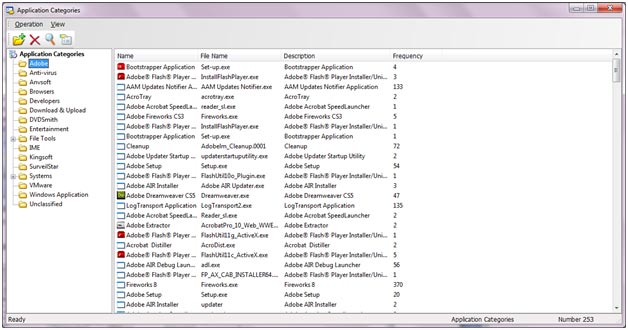 With all the categories on the left and detail information of specific class on the right, you can add, delete, find, move to and show properties if you need to better manage applications.

: Add
Choose root directory of application categories and then click the icon or right-click and choose Add to create a new category and enter a name for it.
Choose certain category and add sub categories the same as above.

: Delete
If you want to delete specific category, sub category or certain application, click the icon or right-click on the item and then choose Delete.

: Find
Click the icon to search a specific application and its category via any of these three attributes: name of the application, file name and description.

: Property
Double-click a certain application or choose one and then click this icon, then you can get detailed application information about application as the picture below.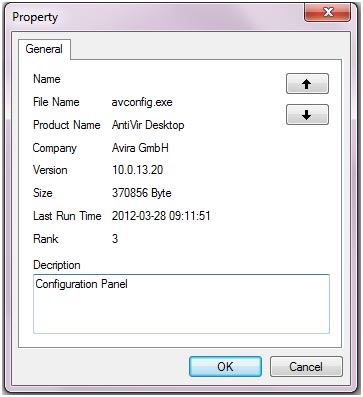 Move to: Right-click on selected application or category and click Move To…, select target group and click OK. You can use SHIFT or CTRL key to move multiple applications or categories at one time.