Website Categories Management
According to different requirements, IT manager or supervisor can categorize websites to facilitate statistics and control staff accessing to the Internet.
Click menu Categories > Websites, then you will see a window as the picture below. Website categories and website identities should be added manually.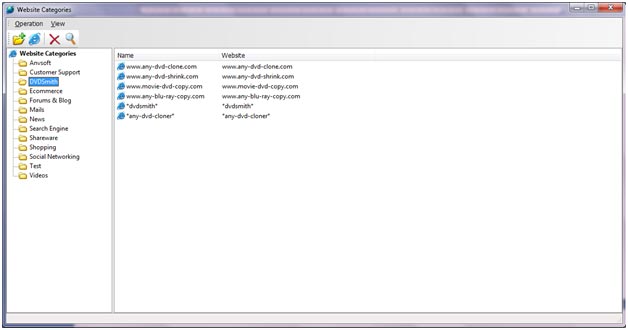 With all the categories on the left and detail information of specific class on the right, you can add, delete, find, move to and show properties if you need to better manage applications.

: Add new category.
Choose root directory of website categories and then click the icon or right-click and choose Add to create a new category and enter a name for it.
Choose certain category and add sub categories the same as above.

: Add new website identity.
Choose a certain category and then click this icon or right-click and choose Add > Website; enter a name and the website address to add new website identity. Support wildcard.

: Delete
If you want to delete specific category, sub category or certain website, click the icon or right-click on the item and then choose Delete.

: Find
Click the icon to search a specific website and its category via any of these three attributes: name of the application, file name and description.
Move to: Right-click on selected website or category and click Move To…, select target category and click OK. You can use SHIFT or CTRL key to move multiple websites or categories at one time.