How to Deploy SurveilStar Agent Remotely
SurveilStar spy software records and controls all computer and Internet activities - emails, web sites, chats and instant messages, program activities, document operations, removable devices, printers, and many more.
Features
Resources
Topics
SurveilStar Agent should be deployed to computers that are required to be monitored and controlled. The Agent can install in silence mode and run in stealth mode.
There are 3 ways to deploy SurveilStar Agent to computers: Direct Installation, Remote Installation, and Logon Script Installation.
Method 1: Direct Installation
Adopting the Direct Installation method, you need to install the Agent one by one. Details...
Method 3: Logon Script Installation
If the local area network (LAN) has a domain server, you can use this method to deploy the Agent to across the LAN. Details...
Method 2 : Remote Installation
Remote Installation can easily deploy SurveilStar Agent to a massive number of computers in remote and batch mode.
Step 1. Launch the remote installer
On the desktop of the server, click "Start > All Programs >SurveilStar > Agent Remote Installer"
Step 2. Scan network to find computers
By default, SurveilStar only scans computers from the server's network segment. If you want to extend the searching area, go to menu "File > Scanning Settings", and specify an IP range. All computers available for remote installation will be listed with host name, domain name, operating system, IP address and install status, as showed bellow.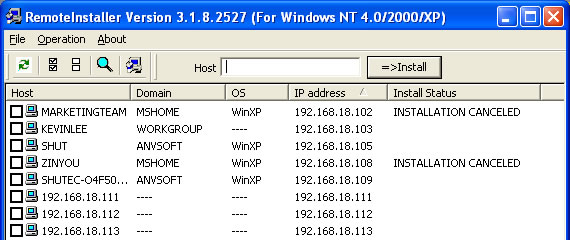 Step 3. Select computers to install SurveilStar Agent
Tick the checkbox before the computer host name that you want to install the Agent on it, and then click the menu "Operation > Install" to start remote installation, or click the install icon

alternatively.
Why does Remote Installation fail, and how to fix it?
Administrator privilege needed.
If the target computer is protected by password, you need to provide the administrator name and password of that computer to proceed the installation, or the remote installation would fail. View the Remote Installation Logon Dialogue Box
The admin account is not shared via network.
To see if the admin account (the ADMIN$ folder) is shared, you may use Command Prompt to check out the status.
On the desktop of Windows, click "Start > All Programs > Accessories > Command Prompt" , input the command line "net share" , and you will see if the ADMIN$ folder is shared ( View example)
If the ADMIN$ is not listed, you can input "net share ADMIN$" to activate the account sharing ( View example)
There is no shared folder in the target computer.
Even though it's remote installation, there should be a file folder that can be used by remote user to store the program files of the Agent. Please make sure the target computer has at least one file folder is shared, or you may need to create one on that computer.
Remote Installation only works on Windows NT4.0/2000/XP systems.
Remote Installation can fail sometimes due to the Windows NT local security settings.
When Remote Installation fails, the best way is adopting the Direct Installation.