Chrome Browsing History Tracker
If you are looking for a good software for monitoring users' Chrome browsing activities and get to know their on-line visiting habits, how long a person stay on a particular website, Surveilstar is here to help.
Learn more...
Chrome Browsing Activity Monitoring
Have you ever wondered why so many apps on Google web store warn you that your location or other personal data will be offered to the app provider? Do you know that every visit to a website with Google Chrome or whatever web browser, we are always tracked by it? Are you worried- even though i am not that important, would the leaked information finally lead a financial fraud for me? Have you tried to find an ideal software in order to track on-line browsing history of Chrome users?
Well, if any of the above mentioned situations fits your case and you are happen to come here to seek ways in monitoring Chrome browsing activities, let Surveilstar help.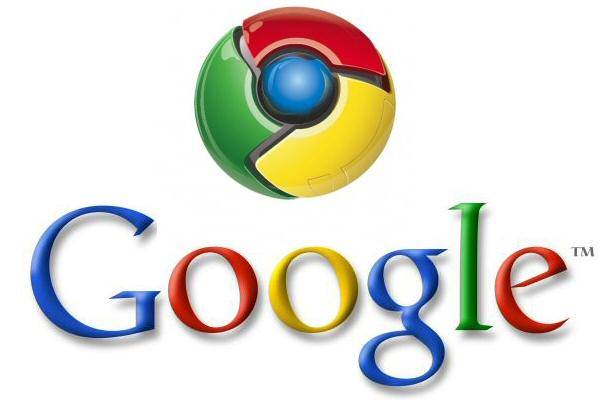 Features
Resources
Topics
Why choose Surveilstar?
It is not surprising to know that Surveilstar is one of the oldest, most popular employee monitoring software brand. What impressed people is, it supports Google Chrome web browsing tracking. Because Chrome has almost the best encryption technology in the browsers' kingdom and most monitoring software of the same type in the current market is not able to do Chrome monitoring or well accomplish it. Some sites may claim in the first place that there would be no problem for monitoring Google Chrome on-line behaviors but finally ends up with various kinds of excuses and errors. What's lucky, Surveilstar awaits to aid you.
How to use Surveilstar to monitor Chrome browsing activity?
Step 1. Download the latest version of Surveilstar monitoring software and follow instructions to install the software. Please note-
1. Agents need to be correctly installed by closing firewall, anti-virus software,safety guard of the monitored pc. Make sure of the normal connection between server and agent, or Surveilstar is unable to view any browsing data. Or it can just view some browsing data via IE or other web browsers, but not Chrome. Anyway, most former Chrome versions are test and proven supported. To ensure the version you want to monitor is supported or not, please contact support@surveilstar.com.
2. Managers/supervisors can set multiple consoles for different privileged watch of the monitored pc side. The recorded Chrome browsing history will be automatically sent to server and shown on consoles. But there may be several minutes' delay for the display because the internal design of Surveilstar makes the data collection executed within a time period.
3. Server needs to be well deployed and for large capacity storage, you may need to give up the embedded sql server of Surveilstar which will only record 2 GB data. Try sql server 2005 or higher versions for larger storage space.
Try Surveilstar 30 days trial for 5 computers' Google Chrome browsing history monitoring now.
Step 2. Click the "Surveilstar V3 Console" icon on the desktop or quick launch bar to enter the console. The main interface will show as below.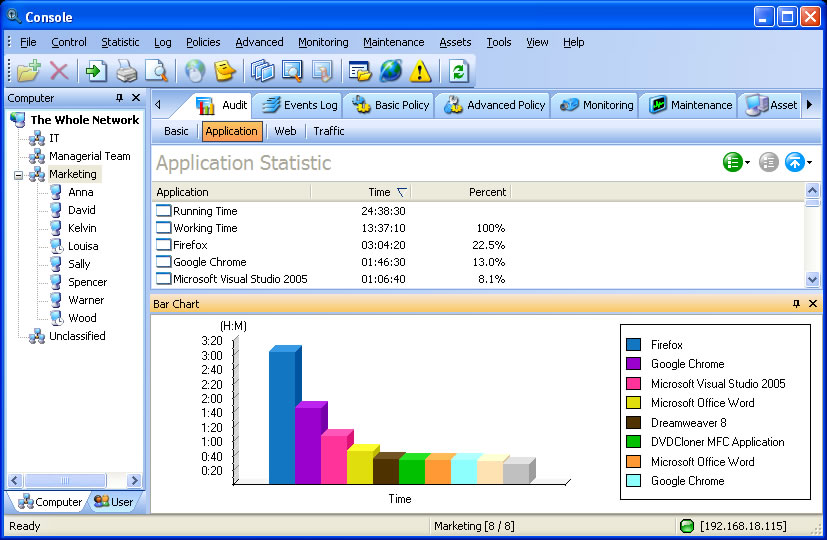 Please note that different versions of Surveilstar may differ in the interface. But they are generally similar and there is no function conflict.
Step 3. View and track Internet browsing history of Chrome users. With Surveilstar, you can do the following-
1. View users' websites visiting details with Google Chrome on "Event logs">"Web". You will know which sites a particular user has visited and how long has he/she stayed there.
2. Auto-generated web statistics by Surveilstar can provide you a direct and accurate impression on the user's on-line browsing with Chrome.
3. Also, you can set "basic policy" or "advanced policy" to block/alert/allows/ignore a user's visit to a particular site.