SurveilStar's IT Structure
Features
Resources
Topics
SurveilStar computer/Internet monitoring system is composed of Agent, Server, and Console.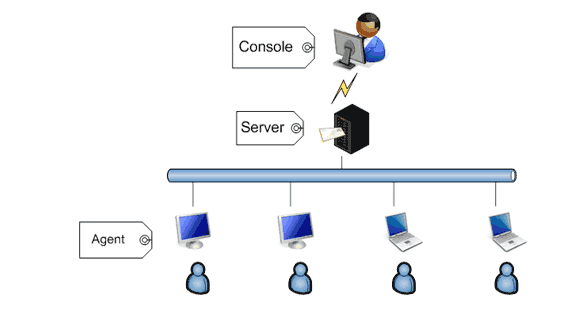 What's a SurveilStar Agent
Agent is the monitoring application installed on target computers.Agents can be grouped, and then managed and controlled by group.
SurveilStar Agent can:
Collect data of monitored computer/user's PC/Internet activities
Send collect data to server
Execute commands from server
Capture and send screen snapshots to console in real-time
Control PC/Internet activities in accordance to the predefined policies
Run in stealth mode
Self-protect from unauthorized uninstalling
What's a SurveilStar Server
Server is the computer that stores all computer/Internet records. Server connects Agent and Console. Learn more about server requirement and suggestions
SurveilStar Server can:
Collect and store the data of computer/Internet activities on monitored computers
Execute control strategies
Backup and manage log history
Search the network periodically
Manage all monitored computers
What's a Console
Console is the control panel for administrator or supervisor.
View the screenshot of SurveilStar Console
SurveilStar Console can:
Watch real-time screen snapshots of monitored computers
Review all computer/Internet activities of monitored computers/users
Choose computers/users to be monitored
Setup strategies on controlling monitored computers/users
Receive alert messages and take actions
Search records, and save selected records in different file format