How to block the access to social networking websites like Myspace?
Myspace builds one of the world largest social network and be loved by billions. It is so popular that it can be easily abused. If you are meant to block Myspace or other websites, Surveilstar monitoring software can better help you with that.
Learn more...
Surveilstar Myspace Blocking Software
Myspace is like a fertile soil for people to get knowing each other and develop relationships. It is so easy to start- all you need to do is a profile collecting plus a friend request sent. Myspace brings us so much joy to see people around the world, get more and more familiar with different locations, know different customs... It also enables us to listening to the newest albums of almost every artiest and know the singers latest news. Myspace is so popular that you will never find it surprising to see people use smartphones to view Myspace updates. Well, if this happens in workplaces during working time. Then it can be regarded as a violation of company rules. How to warn users the use of Myspace? How to block Myspace access? Surveilstar will help you.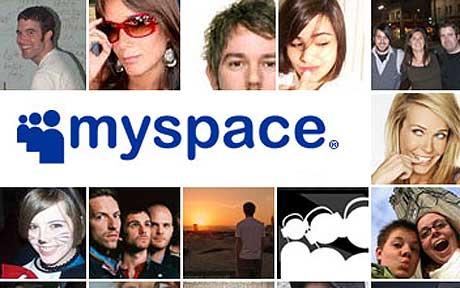 Features
Resources
Topics
Myspace went live on 2003, shortly before Facebook, and soon became the most popular networking site in the world. It was claimed that one in four Americans are on Myspace. What's more, as many people in United Kingdom own a Myspace account as they own a dog.
Well, Myspace helps people build and deepen relationships with family, friends in and out of reality lives. It also provides on-line music listening services which Facebook or Twitter is unavailable to do. Also, together with other unique widgets on Myspace, younger users may think joining Myspace is cool.
Although Myspace had been through a long-term redesign which honestly speaking is frustrating and disturbing for most users, its return finally fixed everything. A official survey shows, the redesign is not failing most because it has indeed improved somehow.
Well, in some cases, to some people, they may want Myspace become inaccessible which if possible to help employees concentrate. Or some just want it work during a certain period of the day which will not affect working/learning productivity but also entertain people with several hours.
If you are having problems on how to do with Myspace access, you may try Surveilstar, the most powerful websites block software, ensure you a total peace of computers/Internet.
Why Limit even block Access to Myspace?
It is not about the Myspace service itself, just about the timing of using it. Like for an employer, he/she will never be happy if an employee is still playing Myspace for latest album information during working hours. Like for parents, if their teenage girl uses Myspace to know some guy and hangs out with him, shouldn't they be worried?
As it is hard to guarantee the abuse of Myspace, it is probable for people to take measures on limiting even blocking the Internet access to Myspace or sites like Myspace.
How To Use Surveilstar Software To Block Myspace?
Step 1- Login Surveilstar console.
Step 2- Set "Website Policy" on "Basic Policy" of the menu.
Step 3- Set policy on the "Properties" window.
Step 4- Add "*myspace*" on the website blank.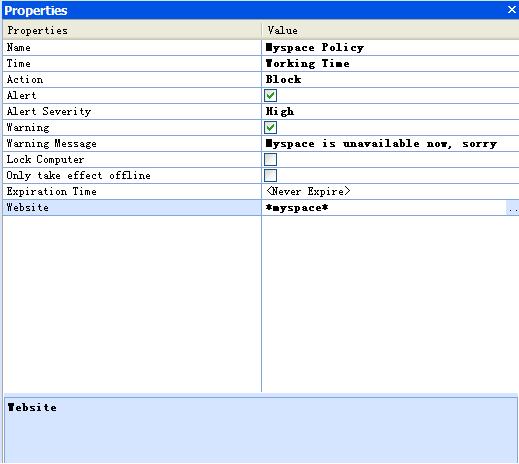 Thus, every webpage with keyword "myspace" will be blocked.
Try Surveilstar to block Myspace and other networking sites now!