How to block access to Twitter while working or studying?
Twitter has attracted over million visits per month But if it is abused and over-time used, it will surely affect people's working or studying productivity. How to block Twitter for some cases or during some particular time period?
Learn more...
Surveilstar Twitter Blocking Software
Maybe you are just a hard working guy who wants to be more concentrated on work. Maybe you are the boss of a company who feels unhappy to see employees checking twitter updates during work. Maybe you are a computer science teacher who is tired of telling students what websites they should not visit on class. Maybe you are worried parents who trust your kids but still want to make sure that no cyber criminal is around them. Well, if you are someone who really concern or upset about the use of Twitter and you do want to block it for some particular time period. Surveilstar can help.
Features
Resources
Topics
Twitter, the world's most famous social networking service, has attracted over 500 million active users as of 2012 which is a number other social networking sites like Facebook, Myspace are unable to beat with. Twitter is also unique compared with Facebook and others. It is more like microblogging which allows its users to post and read text messages of up to 140 characters. You can send anything you want (of course not hate speech or adult content... ) , share them with friends, family and all your followers. Many people play Twitter for fun, some for promoting their own websites... And like Facebook, Twitter has also created a network of add-ones and applications that would help its users get even more out of the service. Well, in these cases, Twitter is really a great helper and make our lives wonderful. But the popularity may also bring abuse. So if you do want to see accesses to Twitter for some particular places or during a certain time period, Surveilstar is a considerable software to block websites including Twitter.
With Surveilstar, you will be able to-
1. Simply limit access to particular websites.
2. Block websites without special deployment on network connection.
3. Filter websites with keywords of the web address.
4. Many more...
How To Avoid Twitter Access With Surveilstar Monitoring Software?
Step 1- Login Surveilstar console.
Step 2- Set "Website Policy" on "Basic Policy" of the menu.
Step 3- Set policy on the "Properties" window.
Step 4- Add "*twitter*" on the website blank.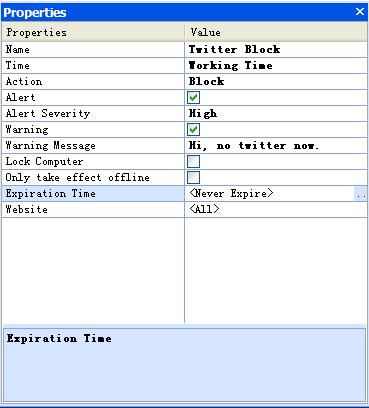 Thus, every webpage with keyword "twitter" will be blocked including Twitter share options on other websites.
Try Surveilstar to block Twitter and other networking sites now!