AIM Monitor
Surveilstar employee monitor is applicable to many IM tools monitoring like AIM. It can record chatting conversations among AIM users, offer access to download transferred files while talking, even support policy set to block AIM.
Learn more...
SurveilStar AIM Monitoring Software
Surveilstar is an excellent monitoring software based in Windows, designed to provide employers with a full control over employees' AIM usages. It can be easily set up and used by anyone with simple clicks thus creating a 360 degree AIM monitor. With Surveilstar, you will be able to-
1. Record all AIM chat content
2. Record other conversation details like participants, start/end time...
3. Set policy to directly block AIM
4. Export AIM monitoring records
5. Watch real-time screen of AIM usage
6. Many more...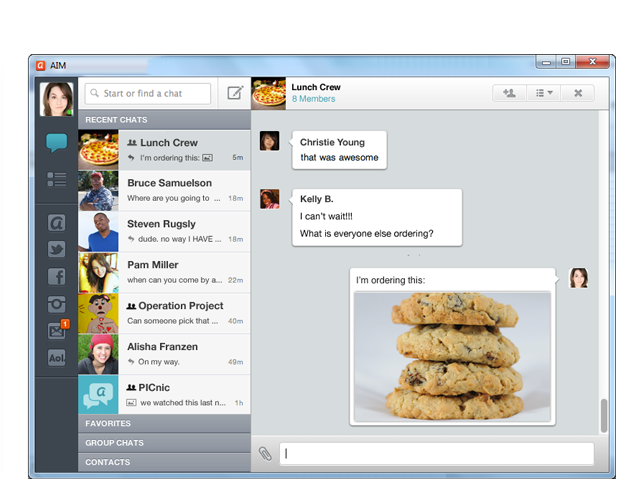 Features
Resources
Topics
AOL instant messenger, more familiarly known as the AIM, is an instant messaging program released by AOL in 1997. It used to be one of the oldest and biggest fish in the IM world, welcomed worldwide. There was one time that the software was claimed to be owning the largest share of instant messaging market in North America. But every coin has two sides- this phenomenon to some extent demonstrated the popularity of AIM, but also explained why so many employers are worried that the over use of AIM even other IM tools during work may affect employees' working productivity. They spend money and efforts trying to figure out a way in IM tools monitoring especially AIM monitoring- in such case, Surveilstar is certainly a good helper.
How to use Surveilstar to monitor AIM?
Step 1. Click HERE to download Surveilstar. Choose "Custom Installation" while deciding what to install.
Tips: Surveilstar is made up of three parts- console, server, agent. The console needs to be installed on the monitoring computer side while the server can be installed on the same pc or separately installed on another pc. The agent needs to be installed on the monitored computer.



Step 2: Enter the console interface, click the agent pc name of "The Whole Network" on the left bar. Choose "Instant Message" under "Monitoring" button.

Step3: The AIM details will be shown as a list with details like computer name, user, start time, end time... You can view details by clicking any one of the records.

Block AIM with Surveilstar
Set "Application Policy" to block AIM, the block details can be modified on the "Properties" at the right bar.

Surveilstar employee monitoring software allows many more functions on AIM block and monitor, for more, please do not hesitate to begin your trial now!