SurveilStar -- Record and Control All Computer Activities Remotely
SurveilStar remote monitoring software operates in stealth mode. It will not appear in Windows Start, System Tray, Desktop, Task Manager or Add/Remove Programs. Users will use a Hot Key and Password to access SurveilStar Console. Users will not be able to Terminate or SurveilStar Agent in Task Manager.
Features
Resources
Topics
SurveilStar - Remote Installation
No physical access to your remote PC is needed to install the spy software. Remote Installation can easily deploy SurveilStar Agent to a massive number of computers in remote and batch mode. Details ...
Unlike the other remote monitoring software titles on the market, SurveilStar is fully and completely compatible with any Windows OS including Windows XP, Vista and 7. System requirements ...
Once installed you can monitor and control remote computers by logging on Console to view the real-time screen snapshots. You can also view chats, websites, applications and more, with detailed logs.
How It Works
Surveilstar Remote Computer Monitoring Software consists of Server, Console and Agent. Agent is installed on the computers you need to monitor, and server will invisibly collect all the data from the agent computers, then network manager or supervisor can use Console to review the data and control the computers with flexible controlling policies.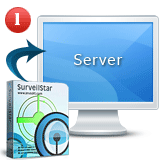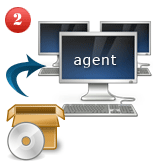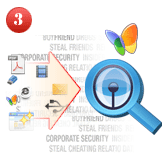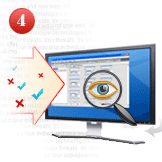 1. Install the Server on administrator's or parents' computer in a LAN.
2. Install the Agent onto the computers you want to monitor and/or control.
3. Review all recorded activities to know every detail they have done.
4. Control their behavior and access by assigning different types of policies.
Remote Real-time Monitoring
Install SurveilStar remote computer monitoring software on the computer you wish to monitor and walk away. It's that simple! SurveilStar will immediately go to work by automatically recording EVERYTHING your children and employees do their PC, including:
SurveilStar remote monitoring software goes above and beyond traditional monitoring by giving you certain admin and control tools that our own customers have asked for. After you have deployed your module you can logon SurveilStar Console control panel. Inside this Console you can issue commands to be sent to your remote PCs.
After you establish a control policy to specific computer or computer groups, the remote users will receive warning messages they break the rules, meanwhile, the alert notification will also pop up if SurveilStar Console is running. The system administrator can click on the alert message to trace who and when user tried to perform prohibited activities on their computer. No other remote spy software on the Internet offers these real time monitoring and control features. Say goodbye to the lies.
Who Use It?
Parents will see an immediate benefit from using SurveilStar remote computer monitoring software especially when their children have a computer in a different room or even in a different location from the home because SurveilStar remote computer monitoring software will record all internet activity and allow you to see what they have been doing from anywhere in the world. Employers that are out of town on a frequent basis that need to know what their employees are doing will be able to know exactly what is going when they are not around because SurveilStar remote computer monitoring software is secretly recording everything that your employees are doing and sends it to you in a neat and timely activity report.
Who Ours Is Better?
1) We have everything built into SurveilStar Remote Computer Monitoring Software. Our ONE product has more features than ANY of the competitors. We at SurveilStar only believe in giving you the best. We do not believe in splitting our product and selling it to you as multiple different products like other companies do.
2) Security - We do not store any information. All information is within your server, and your remote PC.
3) Competitively Priced - We give you the best value for your money. The competitors do not even come close to our product features, price and support. Click here to buy SurveilStar with discount price.