Screen Capturing & Computer Monitoring
Screen Snapshot will be taken every once in a while, like a surveillance camera aiming at the monitored computers. It takes a picture of the entire screen and displays exact actions, like Facebook, workstation games, internet searches, online shopping, file transfers, web-based emails like Hotmail, AOL email, Gmail, Yahoo mail and hundreds of others, providing an easiest way to see what employees are doing on computers as if you were standing right there.
Screenshots are captured and saved chronologically so you can view them when you wish. Because of the large number of data, SurveilStar screen snapshot is setting not record by default. As an IT manager, you can deploy the Screen Snapshot Policy to choose whether to record screenshots or not according to the actual need.
After installing SurveilStar agent on users' computers, controller can create a Screen Snapshot Policy and flexibly monitor employees' use of computer.
Screen Snapshot Policy
In SurveilStar Console, click menu Policies > Screen Monitoring, then click Add button to create a screen snapshot policy. Then you will see Property panel on the right as the picture below. In the following example, Screen Snapshot will always record.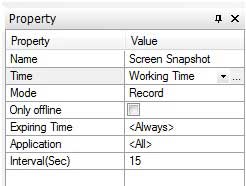 Name: Give your screen snapshot policy a name like Screen Snapshot.
Time: Set effective time for your screen snapshot policy.
Mode: Select policy execution mode. Record and Not Record are available.
Only offline: Check this option if you want the policy to be effective only when the computers are offline.
Expiring Time: Set expiring time for this screen snapshot policy. Or leave it to Always to make it always effective.
Application: Set applications to record, the default is all, and you can specify what you care to record.
Interval: Set regular interval for the screen snapshot. It is 15s by default, which means every 15 seconds takes a screen. Only effectively under the Record mode.
Set different recording frequency for different applications. Do frequent records on some most used applications and the nonessential programs not record or less.
Please note that: The smaller screen recording time interval, the greater amount of data generated. It's important to adjust the screen recording interval base on actual need of appropriate time.