Accounts Management
System administrators have the highest authorities and can use all the functionality within the system. They can allow other managers to perform certain management functions by creating new administrators.
Click menu Tools > Accounts (M)…, then the accounts management window will show with all the currently existed administrators on the left and 4 functional modules on the right as the picture below.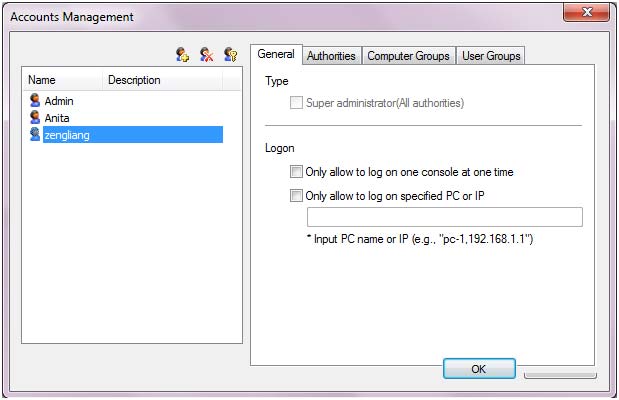 : Add administrator accounts.

: Delete administrator accounts manually added. System administrator "Admin" is not allowed to delete.

: Change password.
The 4 functional modules are General, Authorities, Computer Group and User Groups.
General
Specify type of administrators and logon conditions.
Authorities
Specify authorities of non-system administrator accounts.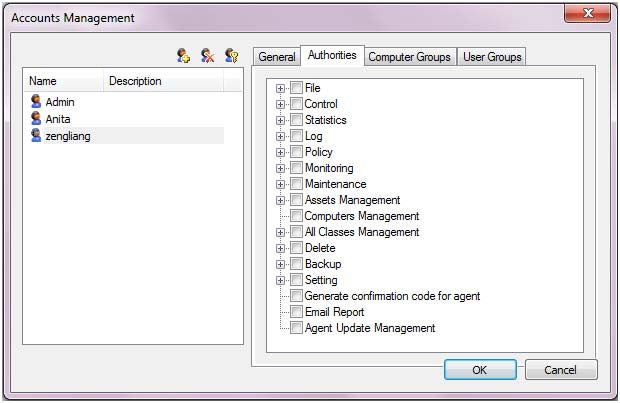 File: Authority to operate computers and users.
Including: Add Computer/ User Group, Delete Computer/ User Group, Rename Computer/ User Group, Move Computer/ User Group, Move Computer/ User, and Rename Computer / User and other authorities.
Control: Authority to control agents.
Including: Notify, Lock/ Unlock, Log Off, and Power Down/ Restart and other authorities.
Statistics: Authority to view statistics results.
Including Application Statistics, Website Statistics and Traffic Statistics.
Log: Authority to view specific logs.
Including Basic Events Log, Application Log, Web Log, Document Operation Log, Printing Log, Asset Changes Log, Policy Log, System Events Log, Backups and Shared File Log.
Policy: Authority to view and modify policies.
Including: Basic Policy, Application Policy, Website Policy, Device Policy, Screen Monitoring Policy, Bandwidth Policy, Logging Policy, Email Policy, IM File Policy and other policies.
Monitoring: Authority to view and export results of monitoring.
Including: Screen Snapshot, Email, Instant Message View Screen History, and Export Screen History.
Maintenance: Authority of maintenance operation to remote computers.
Including: View Remote Information, Remote Operating, Remote Control and Remote File Transfer.
Assets Management: Authority of assets management.
Including Query, Define Asset Property, Modify Asset Property and Software copyright Management.
Computer Management: Authority of computer management.
All Classes Management: Authority of categories management.
Including: Application Categories, Website Categories, Time Type, IP Categories and Port Categories.
Delete: Authority to delete specific records.
Including Delete Logs, Delete Instant Message and Delete Emails.
Backup: Authority to backup and review logs.
Setting: Authority to set agent search range and exclude range of the agent.
Generate confirmation code for agent: Authority to generate confirmation code for agent.
Email Report: Authority to send email report.
Agent Update Management: Authority to update agents.
Computer Groups/ User Groups
Specify management range of non-system administrator accounts. Only can assign one of Computer Groups and User Groups, which means if you specify the computer groups you are not allowed to select user groups. If you choose all the groups of computers, you choose all the user groups also.