Record Detailed Message of IM Tools
SurveilStar Employee Monitoring Software can record instant chats on client machines including tools, local and contact users, beginning and ending time, statements and message contents, which do provide an effective way to define responsibilities, detect illegal chats and avoid waste of working time.
Instant Message Monitoring
Click menu Monitoring > Instant Message, then select a certain computer or a group and specify search conditions including time and range, IM tool, UserID or Nickname and content.

Tool: Choose instant messaging tools to control, such as MSN, YAHOO, Google Talk, SKYPE, TM, UC, RTX, POPO, ICQ, QQ and so on. You can checking All to control all IM tools.
UserID or Nickname: Search chat and content of a specific account according to its User ID or nickname.
Content: Search chat according to some keywords to quickly locate chats of interest.
After specifying your search conditions, click Search button to view the result. Below is a search result example of Instant Message Monitoring. Click Previous or Next button at the right upper corner to view previous or next instant message monitoring records.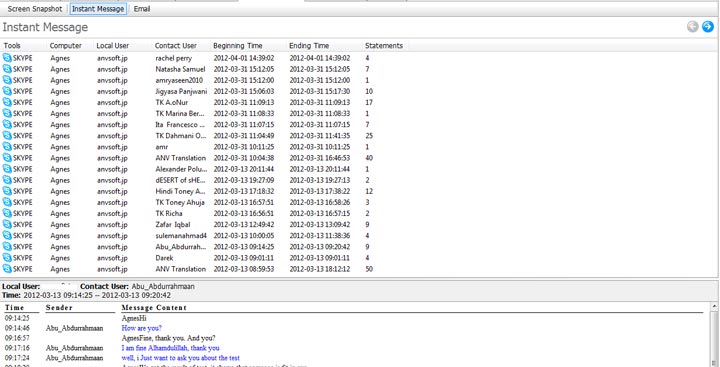 Right-click on an instant message monitoring record and you can view property with information in detail as picture below.