Multi-Screen Capturing & Multi-Computer Monitoring
If you would like to monitor more than one computer at the same time, multi-screen monitoring can really meet your need. SurveilStar Employee Software allows monitoring real-time screen of different computers through multi-screen monitoring, which shows a screen matrix with size range from (2 x 2) to (4 x 4).
Multi-Screen Monitoring
Choose the computer range from the left list, click menu Monitoring > Multi-Screen, then choose size of the screen matrix. Real-time screen snapshots of different monitored computers will automatically display and refresh all the time.
You can check and modify the interval of tracing frames via Tools > Options > information.
Below is a multi-screen monitoring example of monitored computers in 4 x 4 matrix.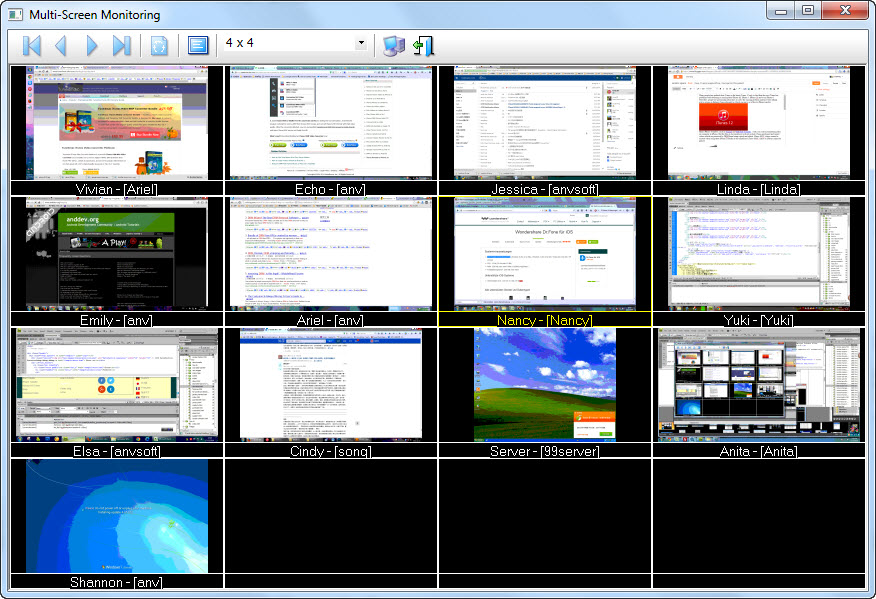 Double click on any computer to enter or exit specific computer monitoring.

First page of the monitored computers.

Previous page of the monitored computes.

Next page of the monitored computers.

End page of the monitored computers.

Auto cycle.

Full screen monitoring. Click the icon or double-click the screen of one monitored computer can take full screen.

Choose certain computer(s) or computer group(s) to monitor the real-time screen.

Close multi-screen monitoring.
Right-click on the real-time screen of one certain computer and choose Lock, and you will be able to see the computer screen snapshot on any multi-screen monitoring page. And you can also send message to specified compute via Send notify message.