How to Install SurveilStar Console
SurveilStar console can be installed either on server computer or on any other specific computer in the same local area network. Please note that the administrator can create different accounts for different users and provide different privileges. The default account is Admin and default password is null and we recommend you change Admin password immediately after you log onto SurveilStar Console.
System Requirements for SurveilStar Console
OS: Win2000 SP4, XP(X86/X64), 2003(X86/X64), Vista(X86/X64), 2008(X86/X64), Win7(X86/X64)
Available Hard Disk Space: 256 MB, 1 GB recommended
RAM: At least 256 MB, 512 MB or more recommended
CPU: Pentium III 500 or higher
Install SurveilStar Console on Server Computer
In the previous chapter, we have introduced installing console on server computer. Simply check the option "SurveilStar V3 Console".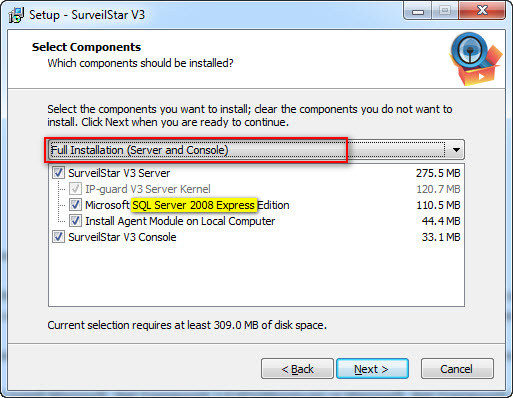 Install SurveilStar Console on Other Computers
If you need to install SurveilStar Console on other computers, please choose "Console Installation Only" as shown below.