Record All Basic Events on Computers
SurveilStar Employee Monitoring Software can record all kinds of basic events happened on the computers. The recordable event types include Logon, Logoff, startup, Shutdown, Restart, Hang up and Dial up. Operations(Event types), Time, Computer, Group, User will be recorded, and description regarding the operation will be also displayed.
Basic Event Logs
Select a computer or a group at first, then specify your search condition including time and range, basic event types and description.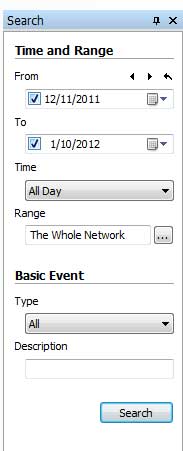 Time can be All day, Custom, Rest, Weekend and Workint Time. If you choose to custom time, a time matrix dialog will pop up and you can select desired time. Working Time can be changed by menu Classes Management > Time Types depending on your need. Below is an basic event log example of Kevin's computer.