Our children are spending a lot of time on the computer and internet to complete academic work, connect with friends, meet new people and access entertainment media. Yet, the Internet is a vast, loosely regulated world of information where children are frequently at risk of exploitation and exposure to inappropriate content. As a parent, it's impossible to watch over your children's shoulder every second they use a computer. So, it is important to take precautions to protect your family from Internet dangers and educate children about computer safety.
SurveilStar Any Parental Control is helpful parental monitoring software for parents to monitor kids Internet and computer usage. With this parental monitoring tool, parents can fully monitor children's activity on Internet, like emails sent and received, online IM chats ( MSN, ICQ, AOL, Yahoo Messenger ), screenshots, website browsing history, application used, and more.
Steps to Monitor Your Kids Computer Activity from Web Browser
1. Download and install SurveilStar Any Parental Control Software.
2. Double click on SurveilStar Professional Control Panel desktop icon to open SurveilStar Control Center window in your default browser, such as Firefox, IE, Chrome.
3. Log in SurveilStar Control Center with default username and password "admin".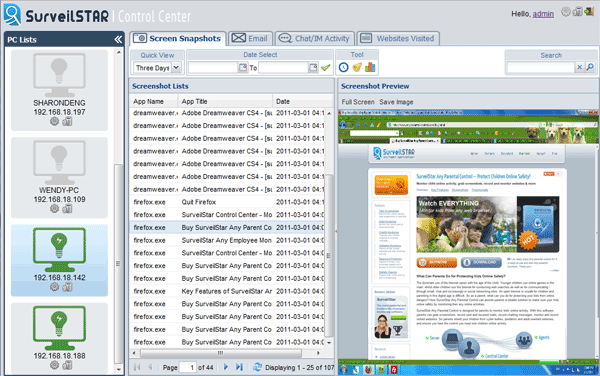 On SurveilStar Control Center, you can monitor all your kids computer and Internet activities:
* Watch every screen snapshots
* Review all their online chats
* Read you child's emails
* See every website they visited
* Filter unwanted applications
* Block inappropriate websites
* And much more…