Do you want to regulate the use of email to send commercial messages in your corporation?
Do you have a desire to restrict sender by only allowing employees to use specific mailbox to send emails and prohibiting using other mailbox?
As the importance of electronic mail has grown both for internal communications with co-workers and for external communications with customers, suppliers and business partners, so has the need to ensure that your email servers are working properly. Monitoring and maintaining the health of your email servers has become vital in your business' communication and even in its very existence.
SurveilStar Email Monitoring is the all-in-one network monitoring solution, which covers the complete range of monitoring needs from availability monitoring to bandwidth and usage monitoring, as well as application, instant message and email monitoring.
Record incoming and outgoing SMTP/POP3 emails and Exchange emails
Record outgoing webmails and Lotus Notes emails
Record all contents of outgoing and incoming attachments
Record email subjects, senders, recipients, time, size, etc.
If you need to prevent one or multiple spammers, block some emails addresses, restrict the employees to send emails only to permitted email addresses, prohibit sending attachments or limit email size, you can set an Email policy to achieve the goals easily. Setting up a proper email policy for your business situation is just a breeze.
Block specified sender accounts
Block specified recipients
Block specified outgoing email domains
Block users from sending emails with any attachments
Block emails with specific subjects
Block users sending files with specific file names
Block users sending emails over limited size
How to Monitor Emails?
1. Download and install SurveilStar to your PC and PCs you would like to monitor. How to…
2. Login SurveilStar Console, select the target computer (group) that you want to monitor email activity. Navigate to Monitoring >Email.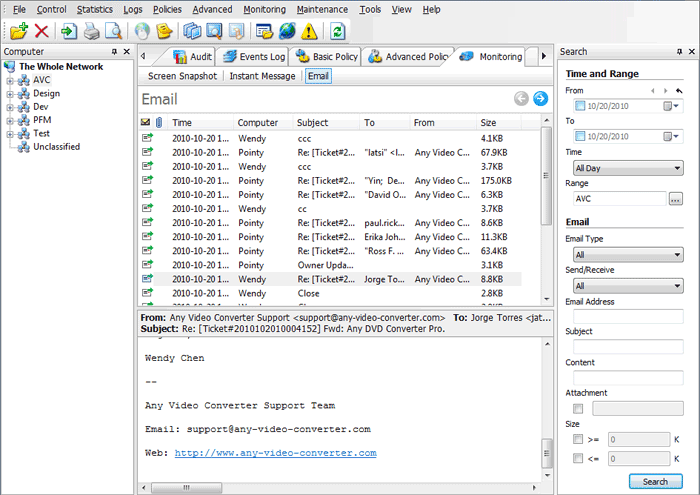 SurveilStar is an ultimate employee monitoring software and parental control software which can help monitor computer activities and protect data security. You can also block files uploading and sharing to prevent data leakage. Including:
View Real-time Screen Snapshot
Monitor Skype or Other Chat/IM Activity
Record Emails
Track web browsing history
Block access to any website
Remote PC Maintenance
Program Activity
If you would like to record and control all your children or employees' activities on working PC, SurveilStar Monitoring would be your best choice.
A 30-day free trial version of this professional computer monitoring and tracking software is available. Feel free to download and try to check what your employees and children have done on PC.